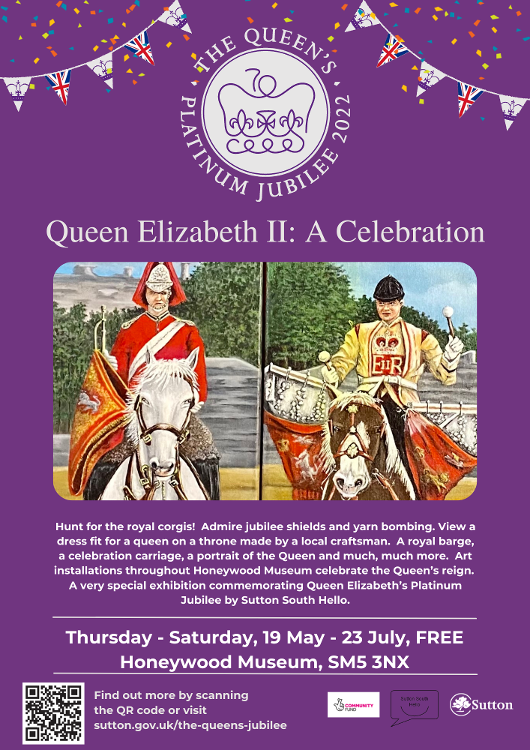 Hello's members inspired by Platinum Jubilee
Both our Wednesday Club members and our arts and crafts group have pulled out all the stops to make a Platinum Jubilee Exhibition fit for a Queen.
As well as a fun, Queen related, yarn bombing exercise outside Honeywood House Carshalton, we have created a majestic array of artefacts relating to Queen Elizabeth II and the Platinum Jubilee.
These include, an updated coronation dress and train, a glittering throne made of a recycled Ferrero Rocher display stand, a Royal Carriage made in a tiny kitchen and a unique tapestry reflecting the 4 nations of the United Kingdom and what the Platinum Jubilee stands for. Many more objects, including a corgi trail for children are spread throughout historic Honeywood House.
Our members, many in their 80s and 90s, have contributed to this spectacular exhibition, demonstrating that you are never too old to enjoy creating beautiful things.
- The exhibition has been sponsored by Subsea 7 and The Big Lottery -
Heather Honour, Chair of Sutton South Hello, narrates a short video of our Lockdown Art exhibition at Whitehall, Cheam
LOCKDOWN 2020
Hello Arts and Crafts worked " remotely" with our members during the first Lockdown. Led by local artist Adrienne Roberts, our members created some beautiful and interesting pieces of work. It gave us all a lot of pleasure during this difficult time.
Our work was exhibited at Honeywood in the Lockdown Art exhibition, and subsequently, by popular demand, was transferred to Whitehall in Cheam. Unfortunately the second exhibition was cut short by the second Lockdown, but not before this video by the Council's Heritage and Arts Department was made.
2016

Nali and Nedal hold the Hello mascot which they designed and made.